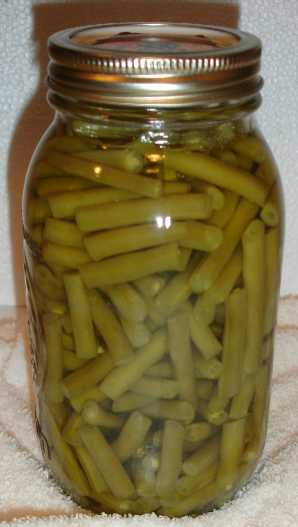 My husband and I both grew up in homes where green beans were a frequently served vegetable. My mom canned her own home grown green beans. In the summer, if I sat down for any reason, a pan of green beans would magically appear in front of me for my snapping pleasure. Small price to pay for home canned green beans year 'round!
We still eat green beans frequently, but over time I have collected a few recipes that give a new twist to the rather tired looking store bought canned beans. The following recipe is from an old church cookbook. I have been making this for over 25 years and they are always well received. The recipe can be tripled and heated in a slow cooker for a large crowd or a pot luck event.
2 14.5 oz cans green beans, drained
Brown diced bacon & onion in skillet, drain well.
Place green beans, brown sugar, & tomato soup in casserole dish and mix together.
Stir in bacon & onion. Bake at 325 degrees for 1 hour.
For pot luck I triple the first 3 ingredients, use 1 pkg of bacon, and 1 whole onion. I place into a slow cooker and cook until heated through.
I know this sounds very different, but it really is a delicious recipe. Give it a try.